Many thanks for the overwhelming response to help at the soup kitchen and Partage events over the holidays!!  

We could use some help on Thursday and Friday sorting goods at Partage (5 & 6 of Jan), as we had 5 cancelations and could use some more help. You can sign up here.
Dear Serve the City Geneva volunteers
Christmas is on us and we have a couple of new options for the season and New Year.
The next new event is on Saturday, 24 December. Yes, on the eve of Christmas the Carrefour Rue soup kitchen behind the main train station (Jardin de Montbrillant) is looking for 8 volunteers to help prepare and serve 150 or so lunches.
The next date that help is required will be Wednesday, 28 December at the same place 9am to 1pm, helping prepare and serve lunches. Finally, they will be serving an evening meal on New Year's Eve, Saturday, 31 December. To help out with any of these meals, please sign up on the Get Involved page.
Carrefour Rue are also looking for volunteers to help them at La Coulou shelter on New Years Eve – please contact carrefour-rue@carrefour-rue.ch or call 022 734 67 60 for more information.
Then to finish off the soup kitchen projects, we need 2 more helpers for the "every other Wednesday" team, starting 11 January 2017 until the end of February. But if you would like to be a standby or start a new Wednesday Team from 18 Jan, you can express you interest by signing up on the website on the Get Involved page.
Our Partage sorting signups are going well but 2 dates still have a few openings if you would like help sort non-perishable food for the hungry of Geneva. It's a weekday project in the Partage warehouse in Carouge (one Friday and three Thursdays) from 8am to 12 noon. It is a really nice project to help those less fortunate to ensure they get food on the table. Please sign up through the website.
If you have moved out of the area or are no longer able to volunteer with STC feel free to return the email with REMOVE in the subject line.
Thank you and best regards
Serve the City Geneva
Partage collection is over!  and WOW what a day..  STC had 3 stores and all 3 bettered their last years high!..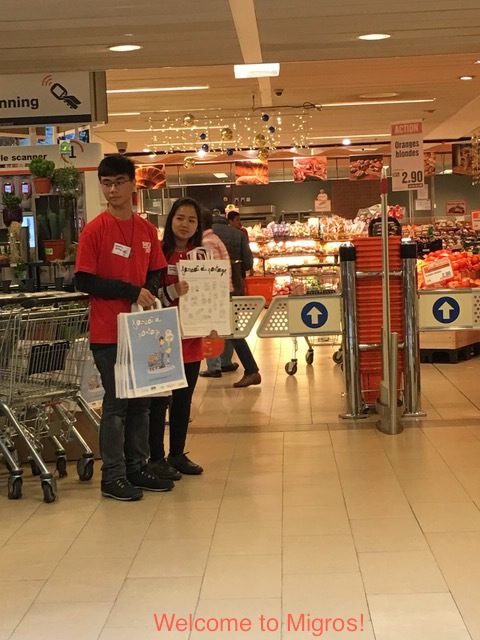 Our staffing was low but enthusiasm was high.  Yes we had people who did not show but.. We had many who work double shifts, we had help from local schools, we had assistance from store management, and as mentioned, your service is responsible to help provide meals for over 900 of the needy people of Geneva every day for the next 6 months!!   The totals from the other 75 stores are not fully reported yet but my hope is they also had such dedicated workers!!   There were so many stories that I witnessed and I know there were stories that you saw and never reported. It was a very special day!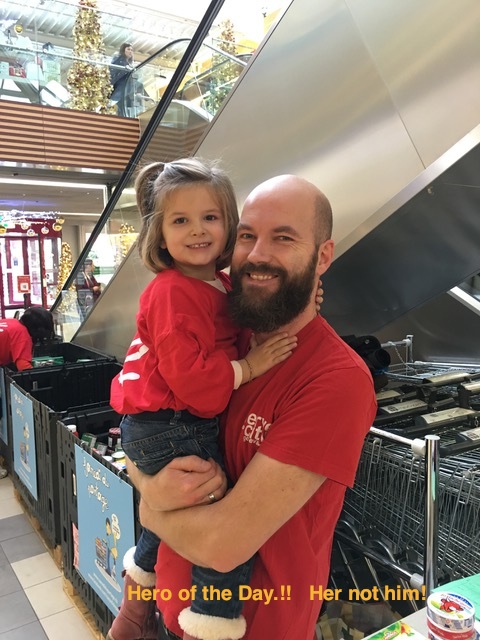 One of the stars (of many) was a 4 year old young lady , who worked more than a double shift in Meyrin and I'm ashamed to say sorted more goods than I was able to do!!   Her parents stood idly by, of course mom, who was with a newborn, handing out Partage bags at a remote entrance, and dad who was trying keep up with bags coming to the 4 year old.  Many thanks to all for a job WELL done, we had many heroes and heroines on the day and trust you all had a good time serving the community!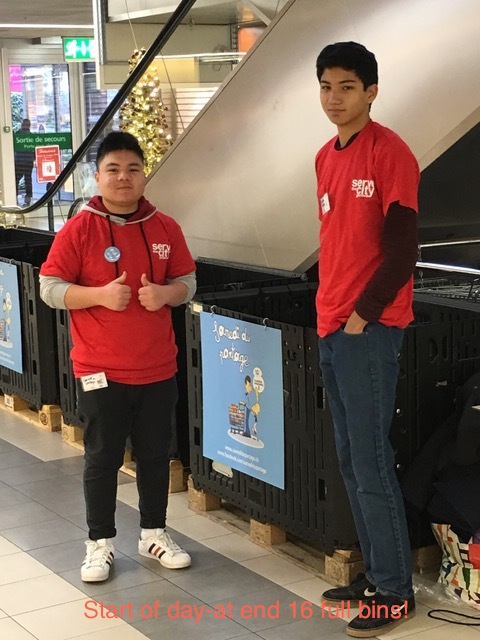 Our next project will be sorting the 158 tons of collected items from 8 am – 12 noon on weekdays.
     Our current bookings are Friday, the 23rd of December and Thursdays, the 29th of December and the 5th & 12th of January.  If you know anyone who may be available for this fine extension of public service, do share it with them. An invitation to our volunteers will follow shortly. You can register HERE already!
Many, many thanks..   Serve the City Geneva..